Activities
Wildlife Viewing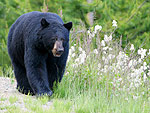 This region is not very populated with people and so tends to have less impact on wildlife in the area as compared to more populated centers. There is a myriad of wildlife in the area that include moose, grizzly bear, black bear, caribou, deer, wolves, lynx, wolverine, coyote and fox as well as numerous small fur bearing animals. For the bird watcher there are the predator birds such as bald eagles, hawks and owls as well as the magnificent Trumpeter Swans, American Pelicans and beautiful loons. Bring your camera!
Go to Wildlife Viewing for photos.
Hiking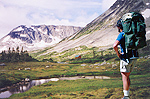 This is a country of high alpine valleys, glaciers, mountains, wild meadows and extinct volcanoes but much of it can only be seen on foot or from the air. Mid summer is the time to get up into the high country and see a vast array of wildflowers that you may never see anywhere else. Have a picnic next to an amazing jewel like glacier fed alpine lake or view the rare blue of ice fields and glaciers sweeping past high mountain peaks.
Go to Hiking for photos.


Flightseeing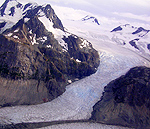 Nimpo Lake has two charter services that will take you up in a plane to go 'flightseeing'. So much of this country is inaccessible by anything but air so if you want to see magnificent vistas undisturbed by man, take a flight! A favorite is the Monarch Icefields, with Monarch mountain presiding over some of the largest glaciated ice fields in BC. Fly over Hunlen Falls, the tallest freefalling drop in Canada at over a 1300 feet, or fly over the Rainbow Mountains, known for their amazing colors caused by different minerals in the rock. Oh, and keep an eye out for the wildlife we have in the region that you can often see from the plane.
Go to Flightseeing for photos.

Fishing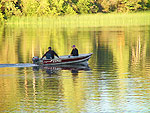 Try trolling, spinning or fly-fishing for hard fighting Rainbow Trout that commonly go to two pounds and up to five pounds in Nimpo Lake right from May into October and you'll have a battle on your hands! Trout, Salmon, Stream and Lake Fly Fishing and Steelhead trips can be arranged with advance notice as well as remote fly-out fishing trips.
Go to Fishing for photos.

Nimpo Lake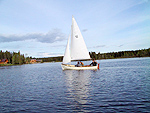 There are numerous things to do on Nimpo Lake. Because it has so many protected bays and doesn't normally have a lot of wind, it is ideal for canoeing and kayaking but it's not unusual to see someone out on a peddle boat, waterskiing, tubing or rafting. Many people also like to bring out their personal belly boats or pontoon boats for fishing. Fly fishing, spinning and trolling all work in this lake using pretty much any kind of lure or fly. Have fun!
Go to Nimpo Lake for photos.
If you have any questions, please feel free to contact us.
Contact