Sightseeing
Hunlen Falls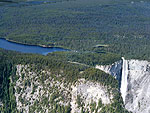 Hunlen Falls is named for the Indian Trapper Hana-Lin. Hunlen Falls and is considered to be the highest free falling waterfall in Canada at over 1,300 feet. It is located at the northern end of the Turner Lake chain and can be reached by flying in from Nimpo Lake, or by driving and hiking in 26 kilometers on the Hunlen Trail. The trail starts from the bottom of the Bella Coola hill at the Atnarko 'Tote' Road and climbs over 6000 feet. It is rated to be a six to nine hour hike and considered difficult.
Go to Hunlen Falls for Photos

Wilderness Lakes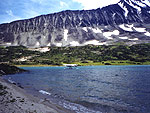 The Chilcotin abounds with wild, high, and remote, alpine lakes surrounded by glaciated mountains and hillsides full of wildflowers. Many can only be reached by flying, hiking or trail riding in to them. As a result, this wilderness is some of the most pristine in the world.

Go to Wilderness Lakes for photos.




The Mountains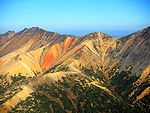 The Chilcotin Plateau where Wilderness Rim Resort is located is surrounded on all sides by mountains. To the west and south is the Coast Mountain Range, the youngest and most rugged of any mountain range on the North American continent. To the north is the Rainbow Range, known for its amazing colors and fantastic hiking, while to the east and north are the Itcha and Ilgatchuz Ranges. They are part of the Anahim Volcanic Belt, the same conveyor type system that formed the Hawaiian Islands.
Go to The Mountains for photos.


The Glaciers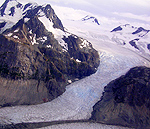 The Coastal Range is classified as a relatively new mountain range geologically speaking. Glaciers are one of Mother Nature's most powerful tools and shaped much of the North American Continent. Glacier melt feeds the lakes and rivers in the valleys and forms the small alpine lakes cradled in bowls or tarns high in the peaks. The Monarch Icefields are a favorite on the flightseeing route. It can be reached for hiking or skiing by very fit adventurers.
Go to Glaciers for photos.

Alpine Flowers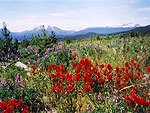 Mid summer is the time to get up into the high country and see a vast array of wildflowers that you may never see anywhere else. Many are rare or only grow at these elevations and will never be seen in a garden. At these high altitudes, the flowers have a very short season and so whole hillsides of many different species will all bloom at once.
Go to Alpine Flowers for photos.
If you have any questions, please feel free to contact us.
Contact