More Amenities Available to our guests

Amenities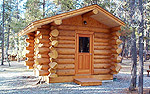 For your convenience there is a bathhouse in a new log structure centrally located with washing and toilet facilities for both men and women. There are also three bathrooms with showers, laundry, and pay phone for guest use in the lodge. In addition, there is a very modern kitchen fully equipped to handle large parties that can be used in addition to your own cabin appliances should you wish to make a special meal for your own guests.
Fish House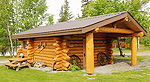 We have a large fish house that is screened in with running water and sink. Attached to the back of that is our ice house. In February around Valentine's Day, we put together a large work party with friends and family to cut and bring in huge ice blocks from out of the lake. These we store in the ice house for use throughout the summer to keep our guest's fish cold. This is a tradition that resort owners in the area have kept for over 70 years.
Play Area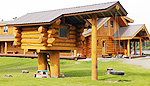 Wilderness Rim is a family resort and we dedicate our time to making sure the whole family has fun! We have a large tree house initially built for our children when they were young. There is the trampoline, the treehouse, canoeing, boating, hiking, and we can arrange horseback riding to name just a few of the activities your children will enjoy in fresh air and beautiful surroundings!


Docks & Av Gas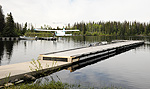 Wilderness Rim offers a sheltered bay and extensive docks with lots of space for boats and all manner of planes on floats in summer or skiis in winter.We sell 100 LL Aviation Gas at prices lower than any city centre, including Vancouver.
If you have any questions, please feel free to contact us.
Contact